Taste the privilege of being a Rancher.
Expert Gauchos welcome you to share and experience their daily rural activities.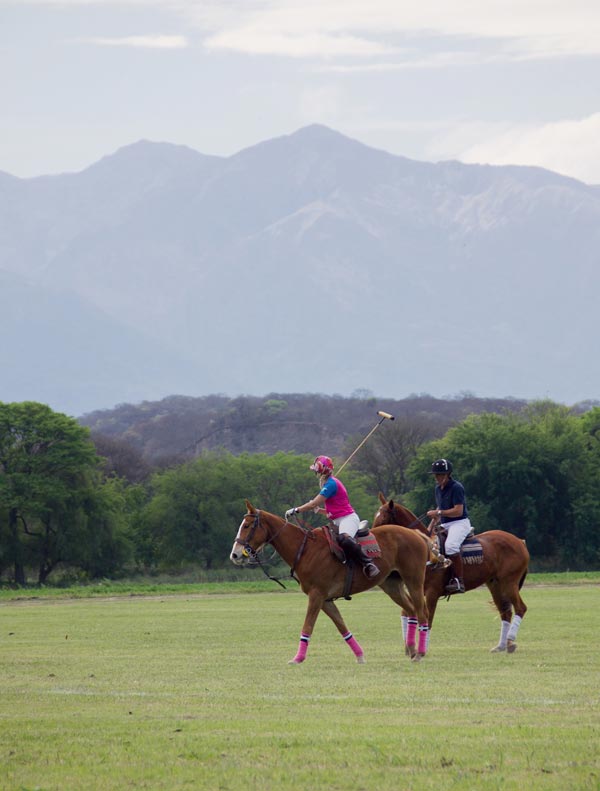 Polo

In Estancia Zárate we breed horses, raise them and train them to play polo.
Our playing field has the official professional size, and thanks to the mild weather, it is possible to practice and play all year long.
Our stallions played in the Palermo field with ten - goal players.
Meet them:
Chapaleufú El Poncho
Stallion belonging to Alberto Heguy's breeding.
played 2 years with Indios "Chapaleufú II". Only horse raised in Tucumán that played the triple crown (Hurlingam, Tortugas and Palermo) in 2012.

---
Mother: Soledad, who played in Palermo.
Father: Polo Nevadito, (best stallion for 10 years)
---
Machitos Banelco
Stallion belonging to Mariano Aguerre's breeding.
---
Mother: Banderola (Pieres' breeding; granddaughters, sisters and aunts played in the Open).
Father: Durazno (stallion of Adolfo Cambiaso).
---
Chapaleufú Grand Campeón
Alberto Heguy´s breeding.
---
Mother: Cañita, one of the best mares of Pepe Heguy.
Father: Polo Nevadito.
---
Zarateña Garoto
Stallion born in Estancia Zarate.
---
Mother: Garota.
Father: Ellerstina Picaro, Gonzalo Pieres´s breeding.
---
Horseback ridings

We do horseback rides within the ranch, going across the fields through paths, crops and appreciating the historical irrigation system. The horses are very tame, since they are used by the gauchos for the daily activities.
---
---
Join-Up

In the Estancia the horses are trained following the method known as Join-Up: it is a method in which the horse is treated with no violence, simply communicating in such a way that he understands what is expected of him, respecting his times and his breaks. This work is done in a demonstrative way by Matías Colombres and then participatory by anyone who wants to try it.
---
---
Farm works:

Estancia Zarate invites you to live the experience of an authentic northern Argentina ranch, participating in the daily activities such as cattle weighing, artificial insemination, cattle drives, etc.
---