Estancia Zárate opens its doors to guests who are willing to experience the life and work of an authentic Ranch in northern Argentina.
---
Accommodation

The main house and the small house are surrounded by ancient trees along a vast field which is crossed by a beautiful stream of water that comes from the nearby mountains.
---
---
Our
history

The history of Estancia Zarate dates back to mid seventeenth century, when the King of Spain gave Captain Pedro de Ávila y Zárate a vast extention of uninhabited land known as the Choromoro Valley.
---
---
Our kitchen

A gourmet proposal that awakens your senses.
All of our dishes are made in the Estancia, using traditional cooking methods and techniques.
---
---
Special celebrations

We provide the ideal scenario to hold corporate events where you can combine work with pleasure. We are located only one hour from the city of Tucumán.
---
Our guestbook

Gracias! Gracias! Lo que más me gusta de Zárate es la sensación de "bienvenida" que logran construir. Es un lugar que se extraña y considero que es maravilloso lo que tienen.

Roberto, pasamos 3 días increíbles en   Zárate, un lugar mágico donde te sentís como en casa. Fuimos mimados por Mercedes y Peto, y el Join-Up de Matías con los caballos fue tremendo. La cabalgata y la hacienda hacen de Zárate un lugar distinto.

Roberto, excelente anfitrión, y el resto de las personas que hicieron mágica mi estadía… Gracias Mercedes, Matías, Peto…

Cada Momento tiene su particularidad, y es dado con tanto cariño y profesionalidad en otros casos, que disfruté muy mucho y me lo llevo dentro de mi corazón.

Querido Roberto y Gonzalo, venir a la casa de sus bisabuelos convertida hoy en un pedazo de paraíso en esta tierra tucumana (…) significó alegría, emoción y asombro, por lo que han hecho de esta casa.

A Must! A unique experience in the best condition, sharing wonderful time with Roberto, Gonzalo and Matías. Thanks a lot, don't chance a bit! See you again. Friendly yours…

I've had one of the most memorable experiences in this wonderful and charming estancia. I loved every moment here. I also learnt so much about nature, about horses and about Argentinian culture. But what made my stay here was the people who live here, the host. From the owner, to his son, to his family, to his staff and team. The made me feel so welcome. Thank you so much for this beautiful experience and I will definitely be coming back. A special thank you to Roberto, Gonzalo and Matías for all the generosity and wonderful company.

Un lieu magnifique, un accueil chalereux, 2 jours au sein de la hacienda Zárate au top! Muchas gracias por todo!

Un lugar único en el mundo. Volvería una y otra vez. El servicio excelente, la calidez humana de su gente y la paz que se respira en este lugar, la hacen un paraíso.  Gracias Roberto, Talo, Matías, Mercedes, Peto y a todos los que hicieron este día inolvidable! V.B. (Diciembre '17) Muchas gracias por la calidad y calidez de atención pero mucho más por el afecto y amistad.

El cuidado cariñoso y eficiente de Mercedes. La mano para la cocina de Sandra. La generosidad de Matías, que comparte su sabiduría campestre y equina con "sutil" pedagogía. Los fuegos de Peto. Los caballos más buenos que conocí. El jardín perfecto. La predisposición de todos y cada uno. Eso es Estancia Zárate. Gracias Roberto y Gonzalo por abrirnos las puertas de su casa.

I came all the way from Hong Kong and had one of the best experiences of my life. Truly wonderful!

Thanks very much for an amazing experience!

Nos llevamos un lindo recuerdo de este increíble lugar. Superaron ampliamente nuestras expectativas. Gracias a todos por ser tan amables. Es un honor para nosotros ser los primeros huéspedes.

Querido Roberto y todo su magnífico equipo. Queremos en nombre de Rosa, Andy, Kim, Adam y yo agradecer a todo el equipo de Estancia Zárate por su excelente atención y por haber estado en tu estancia como en casa y haber podido conocer a todos. (…) Para Matías, un maestro, me enseñó muchas cosas de polo después de 40 años muchas cosas interesantes sobre el caballo que trataremos de pasar a nuestros nietos. Un abrazo a todos.
ESTANCIA ZARATE LOCATION
The Estancia is located at the bottom of the northern mountains on Zárate Norte, between Trancas and San Pedro de Colalao, Province of Tucumán.
San Miguel de Tucumán,
81km - 45 min,

---

Tafí del Valle,
185 km - 2:50 h, (Fastest way)

---

Tafí del Valle, through San Javier, Villa Nougués
200 km - 3:30 h, (Beautiful scenery )

---

Salta, RN 9,
258 km - 2:30 h

---

Salta, RN 6,
250 km - 6:00 h, (Beautiful scenery , gravel road from Salta RN6, through Pampa Grande, Guachipas)

---

Cafayate through Tafí del Valle,
307 km - 5:00 h

---

Buenos Aires,
1.324 km - 13:00 h
Las Queñuas Natural Reserve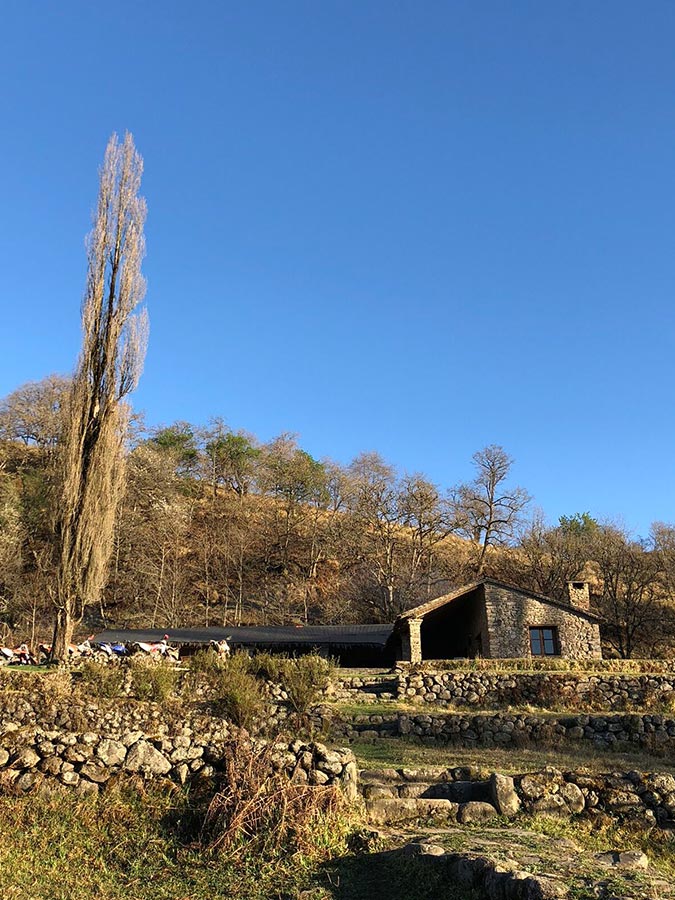 Get to see Las Queñuas Private Reserve
---
Another experience worth living is to visit Las Queñuas Natural Reserve, which was conceived by the owner of Estancia Zarate who fell in love with its immense beauty.
In order to build this beautiful inn, it took more than 7200 mule rides, shipping all the equipement, furniture and construction materials to make this dream come to life.